Professional family photographers understand the impact of posing on family portraits. So, are you planning to take a family portrait and looking for a professional family photoshoot in Singapore?
Whether the photoshoot includes a member of two or a large group, a little planning will make sure that you end up having a portrait that you can proudly display hanging in the hallway or your bedroom for years to come.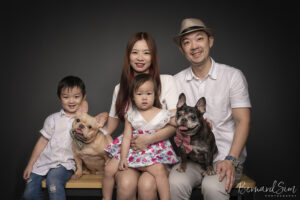 But before going for a family portrait, make sure that every person in the photo should be well-positioned towards the camera. A portrait that will make you proud also needs to be well-composed. And yes, this is something easier said than done when you are working with a frowning teenager, mischievous toddler, or a member who is not comfortable in front of the camera. So it's always better to scout your background, gather any necessary props, and prepare the family members regarding what to expect during the shoot. Our family portrait studio Singapore will make sure your next family photo preserves your family members with love and warmth.
Family Portrait Photoshoot Singapore Tips
Before capturing a family portrait you should know several important aspects such as right frame composition, light, posing, etc. so that the portrait looks professional and full of love and warmth. Let us analyze several aspects in detail.
Make the members stand close to each other
Make the members stand as close to each other as possible. You need to highlight the bond and relation they share, in the portrait. Ensure they do not stand against each other's shoulders. First, place them at appropriate angles so that shoulders overlap each other. If you are doing a  family photoshoot in Singapore. with the elderly ones, it's better to make them sit during the shoot.
Make the family members aware of how to pose
Always advise the members how to pose as precisely as possible. This will help avoid confusion and haphazard family portrait photos. Let them show how to stand and where to be. Remember, it's not just important to say 'move to the right or left,' rather objectify the surroundings by saying turn towards the sea, look at the camera, etc.
Besides posing, the location plays a key role in capturing great outdoor family portraits. For example, if you are capturing at the seaside, ask the family members to stand far from the camera. This will capture the most natural pictures and make sure everyone fits in the frame.
Frame the photograph correctly
When capturing large families, try to make people stand together in such a way that they form groups. Always make sure to put children in front, elderly in the center, and tall and young people in the background. This will make the whole group composition look beautiful.
It is better if all members are dressed in a similar type or color spectrum. This will add some interesting accessories and objects reflecting personal and common hobbies.
Choose the best time of the day
If you are planning to capture A portrait outside, then the morning will be a perfect time. An 15 mins  after the sunrise will be the right time to take impressive shots with soft hues of light. Do not expose the family members to direct sunlight rather locate them in the shades of trees or large buildings.
With a professional family photoshoot in Singapore you can bring out the magic that keeps your family together forever. A professional knows exactly all the know-how of a family photoshoot, plus, if you are the photographer in the family, hiring a professional family photographer Singapore will make sure you are in the shot looking your best.
Stay Social With Us..