Family ties are very important and people usually opt for several ways to showcase their love towards and tell how much they value their family. This includes buying gifts, planning a vacation, or a simple act of arranging sessions of family photoshoot Singapore.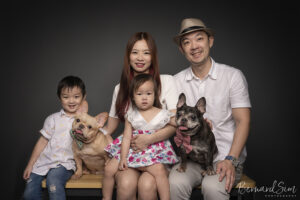 Family photoshoot sessions must not only be fun but memorable as well. After all, the members casted in these types of sessions are the members of your family! But how do you make family portrait photography Singapore fun and worth all the trouble? How would you personalize your family photoshoot sessions? How would you, as a photographer, build an ambience that will not only be easy and comfortable but pleasing for your customers as well?
As an answer to all these questions, we have mentioned below some of the new styles and trends in family portrait photography Singapore.
Open Space
This is usually the most preferable setting for family photoshoot sessions. If you can search for an open area nearby or schedule a photoshoot at an open field near an airport, this can turn out to be a great venue for a family portrait. A lot of photographers prefer shooting in an open area because for one, if the family has tiny tots, they can just be free, run around, play, and just be….kids! The expert photographer can then just capture candid moments like happy laughter and spontaneous reactions shared between the child and parents. Open areas can also be great if you want to capture the best sunrise or sunset photos.
Home Sweet Home
The home can be a great venue for a family photoshoot Singapore. This turns out to be more convenient since the family does not need to move anywhere or arrive at a place they are not familiar with. So the best idea would be to stay at your home and have photos taken around the beautiful decor of your home if this happens to be your first family portrait photoshoot. Make use of the natural light coming through the window that would light up all the photos. It will also be helpful if you make the photographer familiar with your home. Introduce him to your favorite couch or show the person your child's favorite play area.
Metropolitan Area
     Urban settings are usually those that have walkways,       parking lots, shop     houses, or long and winding stairways. After deciding upon one final venue, the next thing to think about is what should everyone wear for a great family photoshoot session. Make sure all the members feel comfortable whatever they wear for this great day.
With the above trends and styles discussed, now, the bottom line is, family photoshoot Singapore must be something uber fun, happy, and spontaneous. It must be an experience in itself, and one that is supposed to be cherished for a lifetime.
Stay With Us..
BookMyCity, Business Picker, Local Business Listing, Lacartes, TRUEen