Hands up who has a proper family photograph? A beautiful photo of all of you, printed, framed, and hung?
We all agree when it's said that family is the most important thing in the world. They are the reasons we keep going. This makes each moment with them worth keeping. But sadly enough, we cannot carry a camera every time to record every milestone or remarkable event. If we are fortunate enough, we would be able to capture our baby's first walk. Or, chance upon a moment we would, later on, learn to be the last.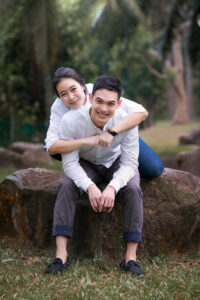 A family photoshoot in Singapore is a must! Life is unpredictable and the most precious thing we can keep closer to us is a beautiful family portrait.
Our main mission at Magicdow is to put the love you have with all of your family members captured in a frame. Through our lens, your memorable moments will be at the end of your fingertips, to be reminisced and cherished forever. We produce the best stills for family photoshoot in Singapore. We aim to evoke genuineness with every shot. Whether you want it outdoors      or in our studio, there is no need to worry as we got everything covered.
TYPES OF FAMILY PORTRAIT
At our family portrait studio Singapore, we offer different types of family portraits to choose from. You must be familiar with the classic portraiture, the one usually done in a studio. And if this is not what you are aiming for, perhaps the right style for you is the candid shot where you will be seen to be casually spending time with your family.
Or, if you're thinking of a hybrid between the two, then you're aiming for the creative family photo.
Now, let's delve into each a little deeper.
Family Portrait Studio Singapore: Classic Portraiture
What we love the most about classic portraiture is how it captures the best in our subjects. This is the most common practice, and we do not limit taking this type of family portrait in the studio. There are outdoor locations where we can conduct the photoshoot. But if you prefer the traditional approach, we do not run out of creative backdrops and props.
Classic portraiture focuses more on formal presentation. The photoshoot accentuates the bond between each member and evokes oneness, legacy, and love.
Candid Family Photoshoot Singapore
A candid portrait showcases interaction between members as seen in their day-to-day lives. The trick here is, observing and capturing spontaneous moments that are not staged or directed. Although we aim the photoshoot to be natural, there are still things to direct like the light, which is crucial in producing amazing pictures, and of course, the setting. With a little tweaking here and there, we are sure to achieve perfection. And after everything is set, all we have to do is, create a chance for you to do your thing. We promise that results will be seamless and natural.
Creative Family Photoshoot Singapore
The most crucial aspect of conducting such a photoshoot is how the professionals you hire create the world you imagine to be in. We believe family photoshoot is also about building the right space for our subjects, something they can be themselves in. And what we find cool about the creative portrait is how it evokes so much fun between the parents and the children. This means you do not have to drag your young one just to do the shoot; they will fit in freely.
At Magicdow, we value two things in a family photoshoot Singapore. First, make sure that you are in a comfortable space. Second, the right props, equipment, and facilities. We allow as many choices as we can. Everyone is unique with different tastes and preferences. We also cater to different occasions such as pet photography, wedding photography, graduation photoshoot, corporate portrait photography, and many others.
Stay Social With Us..
Good News Press, Guide to Gwinnett, Find4sites.com, Cleansway, FreeListingIndia, Online Business Office